??????????? ?? ??? ??????????? ?? ???'? ????? ?? ?????????
---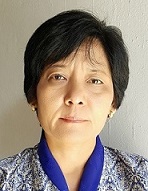 The Management and the employees of Bhutan Power Corporation Limited would like to welcome on board Dasho Kesang Deki, Secretary, Ministry of Finance as the new Chairperson of BPC's Board of Directors.Dasho has served under various capacities and prior to her current appointment she was the Director General of the Department of National Properties. She was also appointed as one of the four Commissioners of Royal Civil Service Commission on May 21 2014.
BPC would also like to thank the out-going Chairperson Dasho Ugen Chewang for his leadership and guidance. We wish Dasho good health and a happy life ahead.